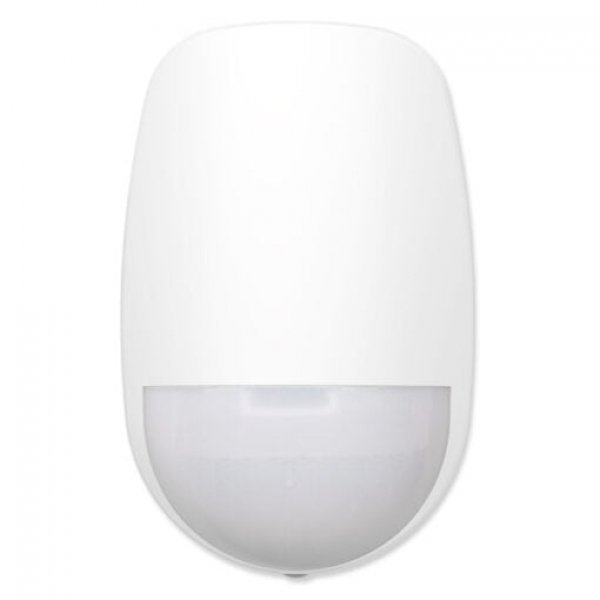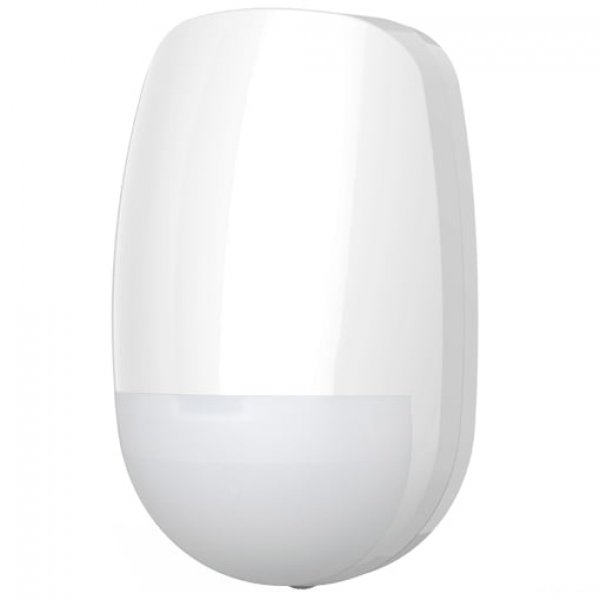 New Hot -34 %


Hikvision internal PIR detector is intended for indoor mounting in locations such as living room, kitchen, hallway, bedroom or for use in office buildings.

The PIR detector has the model number DS-PDP15P-EG2-WE and is a fully secured wireless bi-directional detector with motion detection, tamper protection, low battery check and connection control. It can operate for up to 5 years from a built-in battery. It ignores animals while recognizing humans from the first step.
Detection range of the DS-PDP15P-EG2-WEDThe

Hikvision internal PIR detector can monitor an area of 15 meters from the sensor for motion at an angle of 85.9 degrees. If you place the detector in the corner of a room, the whole area will be protected.

The sensor divides the area into 52 zones and sounds an alarm if one or more zones detect movement. This sensitivity is adjustable via the Hik-Connect application on your smartphone. There are 3 modes, high sensitivity, normal and animal friendly. The latter should be chosen if cats or dogs are present in the protected area. Pets up to 30KG are not detected in this mode.
Range from Hikvision HubThe

range from the Hub to the Hikvision internal PIR detector DS-PDP15P-EG2-WE is 1.600 meters in open field. The connection is continuously monitored by the Hikvision Cloud. If the wireless signal is intentionally disrupted it will be reported immediately via the Hik-Connect app on your smartphone. The wireless Hikvision signal is called Tri-X, and operates on 2 different frequencies in the 868mhz band and has AES-128 encryption.
Mounting heightThe

ideal height to mount the internal PIR detector is between 1.80 meters and 2.40 meters high. Do you have pets, then we recommend a height of at least 2 meters. At this height, a dog of up to 30 kilograms can walk around freely without activating the alarm. If you mount the PIR lower than the recommended height, it will react earlier to pets and the detection distance of 15 meters decreases. Of course, all installation materials are included.
Logging in and mountingAll

Hikvision products are easy to connect. Registration is done with a QR code on each device. Put the Hik-Connect app in "Enroll" mode and you can start adding products by scanning the QR code in the app.

Mount the detector to a wall without disassembling it. Make sure there are no vases, cabinets or glass objects blocking the angle of view. And you're done. Remember, the ideal location for this internal PIR detector is in the corners of your home. Because of its detection angle, it can secure an entire room at this location.
Settings of the Hikvision internal PIR detectorIn addition to

setting the sensitivity, you can make a number of other adjustments. For example, you can choose to use the detector as a bell function. As soon as someone walks into the room, you will hear a bell on your phone. This doorbell function seems to us more something for shopkeepers or to use with a door contact, so that you are informed when someone comes to your home, for example the children coming from school.

In addition, you can specify when the detector should detect. Only when you switch on the alarm system, or for example permanently if you mount it in an area that needs to be monitored permanently, such as a safe room.
Operated by batteriesThe

detector is like all Hikvision products in the AX Pro alarm system working on batteries of the type CR123A and therefore completely wireless. They are therefore easy to place anywhere without having to lay cables. The lifetime of the standard batteries is 5 years with normal use. After this time, they can easily be replaced by new ones for a few euros. These batteries are always available from stock. How to replace the batteries can be found in the manual of the internal PIR detector DS-PDP15P-EG2-WE.

The internal PIR is active in temperatures between -10 and +55 degrees Celsius. Outside these values, the detection quality may decrease. The dimensions are 65,5mm x 103mm x 48,5mm and the weight is 128 grams.
Alternatives

DS-PDD12P-EG2-WE Wireless Dual-Tech Detector:
This has an additional RADAR sensor to verify a detection received via PIR. PIR stands for passive infrared, and means that detection takes place on the basis of heat differences in the room. People cause this difference, but air conditioners and fireplaces can also cause it. To prevent false alarms you can alternatively choose a motion detector with built-in radar module so that detected heat differences are checked with radar. If the radar detects a similar movement, an alarm will be generated.
DS-PDPC12P-EG2-WE Wireless PIR Camera Detector:
This has an additional camera to send images directly to your smartphone at a burglary report. With this camera detector you are immediately aware of who or what has triggered the alarm, and you can immediately take appropriate action.
DS-PDC15-EG2-WE Wireless PIR Curtain Detector:
This has an extra narrow detection angle of 6.3 degrees so that very specific locations can be protected. Ideal for example to place in shops with activated doorbell function, so you hear immediately if someone walks into the store. But also applicable as security directly along windows or doors. You can still walk around in the room when the alarm is activated, and the alarm will only sound when you get very close to the window or door.
DS-PDPG12P-EG2-WE Wireless PIR Glass Breach Detector:
This has extra microphones to check for glass breakage. This means when glass is smashed, an alarm will sound sooner than with motion detection alone.


Hikvision DS-PDP15P-EG2-WE Wireless Motion Detector
Stock:

In stock and ordered before 23.59, delivered tomorrow*.

Brand: Hikvision
Model:

DS-PDP15P-EG2-WE
Secure Shopping
Best security features
Delivery times
Fast delivery from Europe
Specifications
General

Brand

Hikvision®

Guarantee

3 years

Warranty type

Carry-in
Product

Certification

Class 2

Connection technology

Tri-X

Frequency

868MHz

Range

2 kilometres